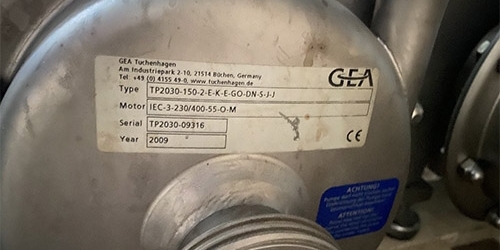 GEA Tuchenhagen TР single-stage centrifugal pumps are efficient hygienic pumps of the GEA Smartpump series for pumping media with a variety of complex biochemical properties.
Application: filtration, filling lines, cleaning in the dairy and beverage industry, in the brewing industry, in the manufacture of cosmetics, in CIP washing and sterilization systems, in non-selective washing systems, etc.
Mechanical mechanical seals used in such pumps must meet the highest quality standards, in particular the requirements of the US Food and Drug Administration and the US Pharmaceutical Industry.
Mechanical seal BTS Engineering R-GEA for GEA pump Tuchenhagen TP2030-150-2-E-K-E-GO-DN-S-J-J art. 244-000042 is made in accordance with FDA standards and is intended for use in areas with strict requirements for sanitary and hygienic conditions:
various options of friction pairs: graphite/ silicon carbide (standard), silicon carbide (Sic) / Silicon carbide( Sic), Carbon carbide/ stainless steel.
versions of EPDM (ethylpropylene rubber) or Viton (fluoro rubber) elastomers
the mechanical seal is clearly fixed with a special groove.
also applicable for T TP / TPS: TP 1020, TP 2030, TP 1540, TP 2050, TP 3050, TP 5060, TP 7060, TP 2575, TP 8080, TP 16040